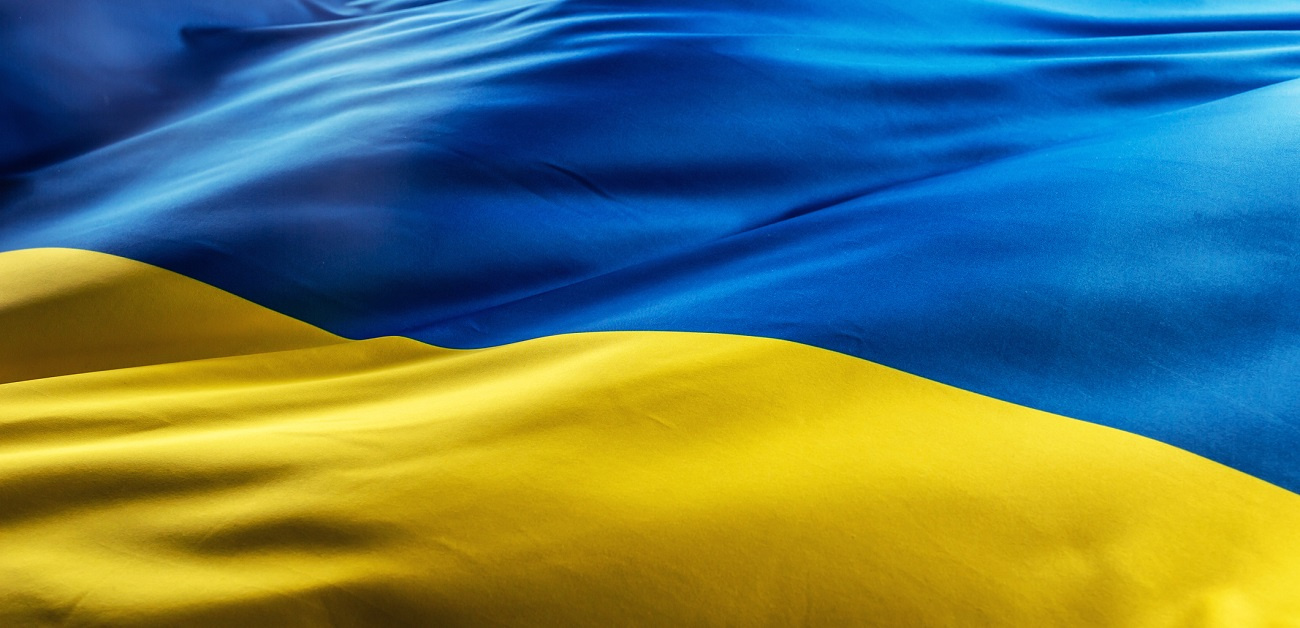 At a church near her real estate office in the city of Irpin, Ukraine, Zoya Ilnytska busied herself helping to make meals for the hundreds who'd gathered there seeking refuge. Distant artillery shots rang out and explosions shook the town, which sits just outside the Ukrainian capital of Kyiv.
Ilnytska's home and her office had already been damaged by shelling from the Russian invasion of Ukraine, which began Feb. 24. But Ilnytska, a mother of three, a real estate professional, and an international member of the National Association of REALTORS®, worked calmly. She joined the others in singing songs of hope.
"We will not fear," she says. "We don't have time for that. Because in war … when you think not only of yourself—fear passes."
During it all, she wore her REALTOR® pin.
REALTORS® Unite Globally
Ilnytska says she takes comfort in wearing the pin that has united so many REALTORS® across the globe who have rallied to answer the calls and to provide humanitarian assistance to the people of Ukraine. (Read more of Ilnytska's story in her words.)
A Real Estate Broker's Experience Inside Ukraine

Zoya Ilnytska, who lives in the Ukrainian town of Irpin, suddenly found herself in a war zone. Here's her harrowing story.
The response has been vast—from individuals donating commission checks to REALTOR® associations leading donation drives. REALTORS® have offered up their brokerage's moving trucks to collect supplies. Brokerage parking lots have been turned into donation centers. Real estate offices have been stacked to the ceiling in shoeboxes of toys for Ukrainian children. And, open houses have been transformed into fundraising events.
Ukraine is home to nearly 50 international REALTOR® members. Dmitriy Selektor, NAR's global ambassador to Ukraine and other neighboring countries, has kept in touch with many of Ukraine's REALTORS® since the conflict began. Some have found themselves on the frontlines in the invasion. At least one member of the Ukrainian REALTORS® association, Pavel Novoselov, was reportedly killed while serving in the citizen's defense forces. This local entity, a bilateral partner of NAR in Ukraine, also has been part of the coordination with humanitarian groups to bring in supplies.
"Many of our members are risking their lives on a daily basis driving and distributing help in their cars to areas under constant bombardment," Selektor says.
Alina Aeby, NAR's global coordinator for Eastern Europe; Gizo Ujarmeli, NAR's global coordinator to Georgia, Moldova, and Romania; and Selektor got to work as soon as the first missiles blazed into Ukraine, helping to coordinate communications and humanitarian aid among NAR's more than 100 global partner associations. "We wanted to bridge alliances and connect the world," says Aeby. By March, up to 30 partners—from Romania, Georgia, Moldova, Slovakia, Portugal, Poland, and more—had responded to calls and were leading efforts. In addition to being active NAR leaders, Aeby is a real estate professional with Compass in San Francisco and Selektor is an associate real estate broker at eXp Realty in Troy, Mich.
On her own, Aeby started a Facebook group where real estate professionals in the U.S., Ukraine, and elsewhere can share fundraising and donation efforts and coordinate additional aid.
A Port in a Storm
Since Feb. 24, about 10 million Ukrainians had fled their homes. Of those, 4.3 million have left for neighboring countries. Just two days in, REALTORS® from Romania part of the APAIR association drove to the Ukrainian border to pick up refugees (many of whom had walked miles in freezing temperatures, holding children and belongings). APAIR members' eagerness to help bloomed into a mission and campaign to help Ukraine called "People for People."
"We had in front of us people who lost everything they had, including those who lost husbands, fathers, grandparents, children," says Dan Negulescu, an international REALTOR® member in Romania. "They had nowhere to go back home."
REALTORS® with APAIR drove refugees to safety, coordinated housing needs, supplied meals, found jobs for some refugees, helped access medical care, and in many cases, welcomed refugees into their own homes. Within three weeks, APAIR members had found housing for more than 630 refugees and served more than 2,000 meals. NAR subsidiary Second Century Ventures has provided funding to APAIR—as well as other REALTOR® global bilateral partners—who are engaged in humanitarian relief efforts in assisting Ukrainian refugees.
Other NAR global partner associations have been quick to respond as well. The Portuguese International Realty Alliance formed CIPU (translated from Portuguese, the acronym stands for Real Estate Agents for Ukraine) and started a humanitarian caravan, driving thousands of miles to Poland to deliver donations and pick up refugees. They also started a website to identify housing needs and match requests.
"We all have witnessed great generosity from owners willing to share part of their houses or even their entire house, helping to find a job and a place at school for the kids, or even buying clothes, food, or lending their car," the Portuguese International Realty Alliance said in a statement to REALTOR® Magazine.
The international response continues to evolve with new alliances taking root. "The crisis is not going to stop, even when the war stops," Aeby says. "We have a displaced country in Europe and so many refugees. As REALTORS®, we can find ways to help the civilians who lost their houses."
'We Had to Do Something'
An ocean away, many U.S. REALTORS® have rushed to take action, too. Many of Realty One's 400-plus offices nationwide became towers of packed shoeboxes that had been collected for displaced children in Ukraine. In one month, Realty One offices collected more than 30,000 shoeboxes—referred to as "cheer boxes"—filled with toys, clothing, and handwritten notes of encouragement. Realty One CEO Kuba Jewgieniew had posted on Facebook asking offices to join in a shoebox collection drive. He called the response "amazing."
"Many REALTORS® and their families, clients, friends, neighbors, children's schools, local churches, and various businesses across America came together to participate and contribute their love to touch the hearts of children running away from their homes for an uncertain tomorrow," says Jewgieniew, whose wife is from Ukraine.
Oleg Bortman, who was born in Kyiv and now lives in Phoenix, says he has been "overwhelmed by the outreach and support" of his former home country. Bortman, associate broker at The Brokery, helped coordinate housing for refugees with contacts he has in Europe. He found an eagerness among his Arizona clients, who asked how they could help, so he started collecting care package donations for Ukraine filled with everyday necessities and first aid kits.
Real estate pro Heather Griesser adapted her nonprofit's resources to go toward Ukraine. As executive director of the Kids Against Hunger Philadelphia, she's committed to packing 250,000 meals ready to ship by the end of April to Ukrainian refugees who've fled to Poland. She is teaming with Convoy of Hope to deliver the meals abroad. Griesser, a real estate professional with the Griesser LaPierre Team in Philadelphia, said universities, corporations, and community residents have joined their events to pack meals and donate funds.
"I think we were all feeling so hopeless watching the news. We had to do something," Griesser says. "Some people want to give money, but then they're not always sure where it goes. We have a warehouse, ingredients, and a place for them to come in and help pack up the food. We're feeding the hunger within each of us to give back and also the hunger of those who receive our food."
Katya Malakhova, a real estate professional for Advisors Living in Boston, moved to the U.S. from Ukraine in 2008. She's using her nonprofit Sunflower of Peace to fund first-aid backpacks for paramedics and doctors in Ukraine. From Feb. 24 to mid-March, Sunflower of Peace had raised more than $3 million.
Two former presidents of the Rhode Island Association of REALTORS® came together to spark a viral movement in the state. Their idea: Use open houses to raise money for Ukraine. Dean deTonnancourt, broker owner of the HomeSmart Professional Real Estate, and Arthur Yatsko, owner of Salisbury Real Estate Agency, both based in Warwick, created a flyer that real estate pros and brokerages could leave next to sign-in sheets at open houses so visitors could scan QR codes and donate to a charity supporting Ukraine (e.g. Doctors Without Borders, International Committee of the Red Cross, and the United Nations Children's Fund or UNICEF).
"We feel fortunate to have houses to look at," deTonnancourt says. "You look at the devastation in Ukraine and all the people losing their home." "It's a moment to count your blessings and maybe give back to others who aren't as fortunate right now," Yatsko adds about making the donation flyers part of open houses.
As humanitarian efforts grow across the nation and internationally, NAR leaders remain committed to raising global awareness and building its REALTOR® alliances in support of those impacted by the violence in Ukraine. "We continue to look at every possible outlet to express our support for Ukraine and our genuine concern for all of those whose lives will be forever changed by this war," Leslie Rouda Smith, NAR's president, said in a statement.
As for Ilnytska, she sees the efforts on social media and has felt the rally of her industry—a profession she plans to continue to be part of in the future, despite current unknowns. In March, she posted a video of herself and others singing songs from the church basement in Irpin while gunshots were being fired across the street and fierce fighting was breaking out in parts of town. "Together, we are strength," they sang. After the song, she noticed she was still wearing her REALTOR® pin. "Apparently because that's who we R," she writes. "You are with us, dear friends, from all over the world, and we feel it."